Exciting Bingo Games Played each Friday
Regular Bingo Games
Each game pays out in a range of $150.00 to $500.00

Fifteen games are played each Friday. The patterns vary e.g. Regular Bingo or 4 Corners, Little H, Hardway Bingo, etc.

Five games are SPECIAL GAMES these games have lareger payouts. You can buy extra sheets for these games (3 faces for 50¢)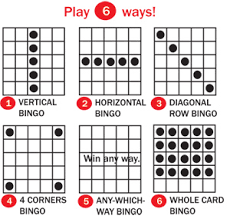 Progressive Games
PRE-COVID
The grand bingo prize starts at $1,000 and is increased each week.
Game 10 = BOW TIE - Grand Prize winner is bingo within 12 balls
Game 13 = CRAZY PYRAMID -Grand Prize winner is bingo within 14 balls
When the GRAND PRIZE reaches $1,199 the ball restriction is gone and the GRAND BINGO PRIZE WILL BE AWARDED THAT FRIDAY.
To see an instruction video Click Here
AFTER COVID  (If our crowd size does not average 100 per week we will implement these changes)
The grand bingo prize starts at $500 and is increased each week.
Game 10 = BOW TIE - Grand Prize winner is bingo within 12 balls
Game 13 = CRAZY PYRAMID -Grand Prize winner is bingo within 14 balls
When the GRAND PRIZE reaches $1,199 the ball restriction is gone and the GRAND BINGO PRIZE WILL BE AWARDED THAT FRIDAY.
When we reach the 10th week the ball count will increase by one per week.
Event Ticket Games
These games are similar to pull-tabs however some of the tickets are used to play for the grand prize.  Play the tickets like you would a bingo game using your dauber.  Grand Prizes are in the range of $200 - $500!
To see an instruction video Click Here