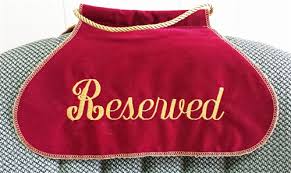 Do you want to sit at the same table each night?
We offer reserved seating to our regular patrons.
Our Reservation Policy is as follows:
You may reserve up to 2 seats per reservation.  Request for more seats require another form and different BingoBucks member.

You must be a BingoBucks member to have reserved seating.

Failure to attend at least one Friday BingoKnights during any 30 day consecutive period forfeits the reservation. 

Seats are reserved until 6 PM.

Reservation requests may be made by completing an approved request form.  Give the form to admission booth.

All requests will be approved based upon earliest submittal date.

We will attempt to update the seating chart within 3 weeks of the submittal.