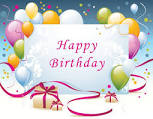 Birthday Bonus Reward
There's One Good Thing About Being A Year Older
Get a $$ off coupon from us!
Terms and Conditions
Each month we will award $15.00 certificate to any member if their birthday falls in that month.
Rewards member must have a valid email address or postal address to receive certificate.
Address verification can be performed at www.myRepeatRewards.com
A Redemption Credit will automatically be sent to each qualifying member at the beginning of the month.
The Redemption Credit will expire on the first day of the succeeding month.
The awarding of points and the creation of the redemption certificate will be done automatically.  Players need do nothing but bring their bingo bucks card to the bingo hall.
Recipient must be a member of our rewards club by 10 PM of the third Friday of the month preceding their birthday.
All general Terms and Conditions of the Friday Knights Rewards Club also apply.
Rewards points will not be earned on the amount of the certificate redeemed.